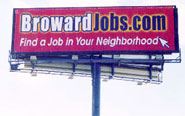 TARGETED ADVERTISING - Our advertisements run in local advertising media like TV (Comcast SpotLight), Bill board on I95, Flyers, Newspapers, Mailers, Search Engines, Newsletters, Local Career Centers, Schools, Word-of-Mouth, …. We are USA's leading career site.
COST EFFECTIVENESS - Posting jobs on BrowardJobs.com is much less expensive than posting jobs in the newspaper or on the national career sites.


Click here for Pricing
JOB FAIRS - Creating a platform for your success.
While BrowardJobs.com saves you time, effort and money, we also work hard to create a quality hiring event based on each company's individual needs. Our events provide a highly effective, professional recruitment environment where you can source, screen and interview the broadest selection of qualified candidates quickly and easily.


Click here for our next Job Fair Event
LOCAL CANDIDATES - BrowardJobs.com advertises throughout the USA. Because our services are local,we attract only local, qualified job seekers to our website, we save you both time and effort in your screening and hiring processes.
FACTS
- The BrowardJobs.com website receives:
Thousands of unique qualified local candidates search per month
Thousands of unique qualified local Resumes in Database
Millions of hits per month
Easy to use and effective web site
FEATURES
- The BrowardJobs.com website includes numerous features to help employers manage their candidate search.
Post Jobs anytime
No more deadlines or waiting.
Create your job ad in as little as 5 minutes
Edit a Job anytime
Extend or expire a job anytime
Resume Database
In addition to performing a passive search for candidates by posting jobs online, employers can conduct a proactive search through our online resume database. With this tool, an employer can enter specific key words to target candidates with a desired skills set.
Search by:

Multiple key words
Education Level
State/City
Job Category
Date Entered

Create your job ad in as little as 5 minutes
Extend or expire a job anytime
Job Alerts
Each time you post a job on BrowardJobs.com, an Email Alert is automatically sent to all registered job seekers who expressed interest your type of job in your area. This gives your postings immediate exposure to the people looking for that type of job.
The Email Alert highlights your company name and available position, and includes a hyperlink to your job posting on the BrowardJobs.com website.
Other advertising products
Blast Job Ad in our weekly newsletter
Featured employer section on site
Big Ads on BrowardJobs.com
Recruiting events